The best CRM software solutions work across your business, optimising customer relations and all your customer-related activity.
They act as a hub for storing contact information, tracking multiple sales pipelines, assigning tasks to staff members, logging customer communications, and evaluating the performance of sales and marketing activities.
It enables someone in a sales team, for example, to scan a prospect's business card, create a follow-up task, log a phone call, send an email campaign, see recent social media posts, close a deal, and track the status of the project, all in the same software solution.
In this article, we unpick the main features and benefits of CRM software and outline the best solutions on the market.
---
Support your business with market leading CRM software
1. Simply tell us your needs
2. Receive free quotes
3. Compare prices and save money
What to consider with CRM software
The focus of each CRM software solution varies from project management tools to marketing automation to lead generation, so look for the specs that fit your requirements.
To support you in your decision-making, below we address some of the most frequently asked questions about CRM software.
CRM software helps you manage relationships with business prospects, close deals, and making internal resources more productive. In practice, it enables you to do the following:
Store data about your contacts, including names, job titles, emails, and phone numbers.
Assign and track workflow tasks to sales teams, such as sending follow-up emails, writing business proposals, and tracking invoices.
Analyze and improve the effectiveness of sales and marketing activities through generating custom reports, forecasting future revenue, and anticipating sales bottlenecks.
CRM software equips you with tools that help you win new business. These include automatic workflows, email templates and campaigns, and performance reporting.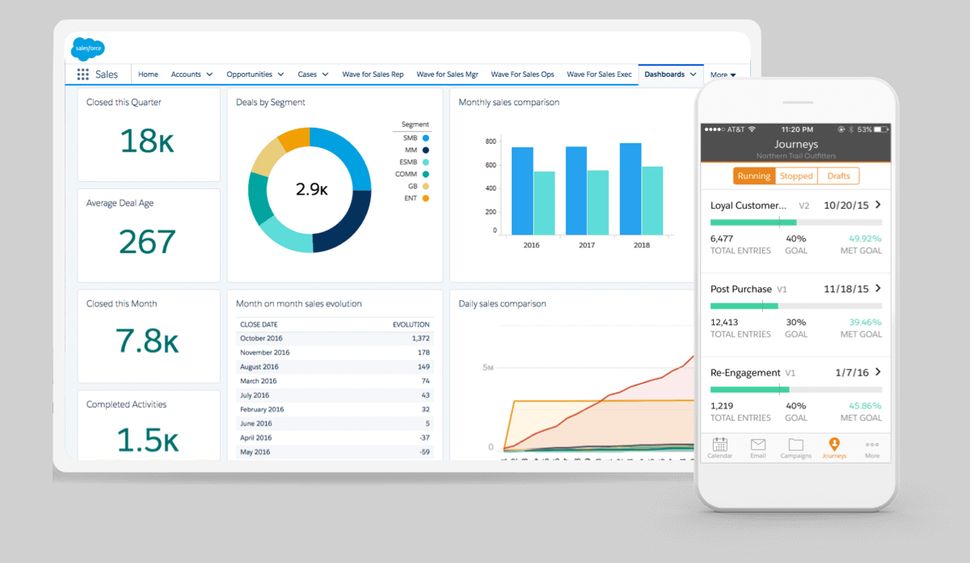 Without a CRM solution, you'd be doing significant manual work to store, track, and interact with contacts, and the sales pipeline would be more sluggish without automation or reminders.
Many CRM solutions can integrate with software including Microsoft 365, Google Workspace, Slack, Mailchimp, and business intelligence programs such as Microsoft Power BI.
Populating your CRM database with customer data from elsewhere tends to be seamless: most providers allow imports from spreadsheets or contact apps such as Google Contacts.
How much does CRM software cost?
CRM software is usually priced as a monthly or yearly subscription, with plans varying in feature complexity. Usually, the quoted price is per user, unless stated otherwise.
Many vendors offer unlimited free tiers, while paid plans grow in functionality from Starter to Professional to Enterprise. Sometimes, add-ons come at an extra cost; for example, phone credits, premium support, or access to automated marketing tools.
The first paid tier in CRM software, which generally works well for small businesses, tends to be between $8 per month to $29 per month, charged on a yearly basis.
Mid-tier plans fit growing businesses and are priced between $20 to $75 per month. As a benchmark, Zoho CRM packs a competitive set of features in its affordable $23 monthly Professional plan.
Finally, the Enterprise or higher tiers tend to be on the expensive side, offering customization options and a higher level of support: the range is from $40 to $150 monthly, with HubSpot's full CRM suite reaching a whopping $4,000 per month.
CRM software compared
| CRM software | Lowest monthly fee | Free version | Key features | Support |
| --- | --- | --- | --- | --- |
| Freshworks CRM | $15/user | Free plan; 21-day free trial | Deal management AI; In-built calling tool | Phone and email support, Mon–Fri |
| Insightly | $29/user | Free plan; Two-week trial | Database and workflow customization; Powerful reporting integrations | Email support only; Premium phone and training support costs $1500/ year |
| HubSpot CRM | $45/two users | Free plan; 14-day free trial | Combined sales and marketing workflow; Website usage analytics | Live chat, phone, and online meeting support |
| Apptivo | $8/user | Free plan; 30-day free trial | Native apps including invoice generator; Up to 10GB cloud storage | Live chat, email, phone support; 24/7 on Ultimate plans |
| Zoho CRM | $14/user | Free plan; 15-day free trial | Lead generation through website scraping; Deal management AI | Email support, Mon–Fri |
| Salesforce (US link) | $25/user | 30-day free trial | Sophisticated workflow automation; Enterprise app development | Email ticketing and toll-free phone |
CRM features and benefits explained
---
CRM software reviews